CD7/2009: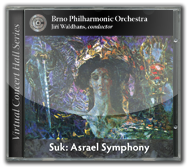 Suk: Asrael Symphony
Brno Philharmonic Orchestra
Jiří Waldhans
The Royal Festival Hall, London
Recording: 13th November 1968
---
MusicWeb International
"Let's say straight off that it's a splendid, often thrilling performance. The bright sound of the hall, allied to the excellent recorded set-up by engineer Geoffrey Terry, has ensured that certain moments register as seldom if ever before."

"This latest entrant takes a worthy and high place in the pantheon of recordings of this masterwork."
—Jonathan Woolf, MusicWeb International, October 2009
Fanfare
"This is an intensely dramatic, detailed Asrael, alive to the sudden changes of emotional character throughout."

"Terry accomplished a great deal with his two-microphone technique … [N]othing can dilute the power of the performance. Even if it had not been captured half as well, it would still be worth hearing. As it is, we can only be glad the engineering side of matters was in such capable hands … The performance is incandescent…"
—Barry Brenesal, Fanfare 33:5, May/June 2010
"The definite highlight of the batch is the live 1968 Waldhans/Brno account of Suk's very under-rated masterpiece, Asrael. I have now heard the CD four times, and it seems to get better with each listening. Along with the classic first-ever Talich/Czech Philharmonic studio account (mono Supraphon), this is the finest Asrael I have encountered."

"[…] right now, this CD is a leading contender for one of the five selections on my '2010 Want List' for the November/December issue of Fanfare."
—Jeff Lipscombe, Fanfare, private correspondence
International Record Review
"[Waldhans] takes an impressively dramatic and serious approach to Asrael that certainly makes this a very tempting alternative…"
—Nigel Simeone, International Record Review, June 2012
EnjoyTheMusic.com Review Magazine
"[T]his work requires the best possible sound, and that's exactly what it receives here … this live performance has been captured with an astonishing realism and presence that let the tenderness and ferocity of the music register with a transparent clarity and bone-rattling power."

"…this performance is something very special indeed."

"We are indebted to Geoffrey Terry for having preserved what is more than just a great performance of Suk's masterpiece, but a historic occasion."
—Max Westler, EnjoyTheMusic.com Review Magazine, April 2015
Customer review
"What is fascinating to me is how one can hear deep into the orchestra at minimal (read: ability to talk with someone else while listening) volume, which effectively replicates my experience when I attend a 'live' symphony concert event."
—Gordon Gray, Jackson, WY, private correspondence, 29th May 2010
Track listing
Time
1
František

Škroup

: Czechoslovak National Anthem
1' 30"
Josef

Suk

: Symphony in C minor, op 27 (Asrael)

59' 07"

2
I Andante sostenuto
14' 48"
3
II Andante
7' 29"
4
III Vivace
11' 28"
5
IV Adagio
10' 59"
6
V Adagio – Mæstoso

*†

14' 23"
Total time:
60' 37"
*Sample extract (control with the Sound Sample tab at the top of the page)
†This track is also excerpted on the Sampler CD
A charged performance
On the night of 20th August 1968, Russian, Bulgarian, Polish, Hungarian and East German troops invaded Czechoslovakia; Dubček's desire for political reform was over.
Three months later, my Czech-born wife and I sat in the Royal Festival Hall, London, as the Brno Philharmonic opened their concert with the Czechoslovak National Anthem. We were both brought to tears.
The concert included the Asrael symphony by Josef Suk. Jiří Waldhans conducted a very intense and moving performance.
It was clear that the orchestra was affected by the soul of the symphony, combined with the realisation that they were temporarily enjoying freedom whilst back home their families were effectively imprisoned.
That night we were not in the auditorium of the hall; we were in a commentators' box on the side of the stage, where I was controlling the recording equipment. The recording of that historic performance has now been published on this CD.
—Geoffrey Terry
---