CD9/2009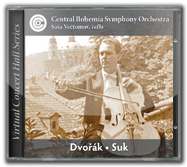 Central Bohemia Symphony Orchestra
Miloš Zelenka
Saša Večtomov, 'cello
Poděbrady Theatre, Czechoslovakia
Recording: 27th May 1973
---
Track listing
Time
1
Antonín

Dvořák

: Overture: In Nature's Realm, op 91

13' 47"

Antonín

Dvořák

:

Cello Concerto in B minor, op 104

37' 46"

2
I Allegro
14' 21"
3
II Adagio, ma non troppo
11' 01"
4
III Finale: Allegro moderato

†

12' 23"
5
Josef

Suk

: A Fairy Tale (Suite from Radúz & Mahulena), op 16

*

27' 34"

Total time:
79' 08"
*Sample extract (control with the Sound Sample tab at the top of the page)
†This track may be heard on the Sampler CD
A tribute to Alexandr (Saša) Večtomov
During the Cold War period I made so many visits to East Germany, Poland, Hungary and Czechoslovakia that MI5 asked me to accumulate specific information; a request I declined, since my wife's family lived in Brno.
In those forgotten countries, symphony concerts were very special occasions. The ladies dressed in black-skirted suits with crisp, white, lace blouses and the gentlemen wore woollen suits and sombre ties. No jeans or sneakers were evident.
I had the very great privilege of meeting some of the leading personalities of the day (Karel Ančerl, Václav Neumann, Kurt Masur, Ivan Moravec etc.) and also became familiar with many members of the great orchestras.
In 1973 Ivan Moravec and Saša Večtomov invited my wife and me to attend a Sunday afternoon concert in Poděbrady, which today is an attractive spa town; in 1973 it was a typically neglected, drab, Communist disaster.
I invariably had my recording equipment in the car, and my request for permission to make a recording of the concert was granted.
The small theatre, where the concert was scheduled to take place, was dark, dusty and very neglected. However, for me it was an exciting occasion: Saša was to perform the Dvořák Cello Concerto.
There were no facilities to suit my needs and, in the event, I was hoisted to a position four metres above the stage and accommodated, with my equipment, on a small 2m × 2m platform.
I employed my standard CNSTR technique and was able to undertake a test of the installation during the rehearsal.
Initially I found the sound very boxy and yet, as the performance proceeded, I became accustomed to the lack of designed, venue acoustics, which even favoured the warm tone of Saša's cello.
I have lived with the recording of that concert for nearly four decades, but determined that one day I would publish it as a tribute to Saša.
—Geoffrey Terry
---