CD15/2016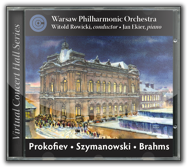 Warsaw Philharmonic Orchestra
Witold Rowicki
Jan Ekier, piano
Huddersfield Town Hall
Recording: 3rd April 1967
---
MusicWeb International
"[S]upremo Geoffrey Terry's recording set-up in 1967 is fully the equal of the other recordings he has released in this series of live performances. The proof of the pudding lies in the clarity with which he captures orchestral choirs but also in the inherent tonal and timbral warmth that are generated. The hall ambience never swamps the orchestra – microphones have been optimally sited – and yet it remains distinctive."

"The well-balanced piano ensures that Ekier's contribution is rightly a concertante one [Szymanowski]. The performance is a mixture of bravura and warmth where the role played by the winds is optimum. Rowicki builds the energy-quotient via the strings with practised grip, the performance marrying splendid control with acutely perceptive phraseology."

"The booklet has been attractively designed and is a pleasure to peruse…"
—Jonathan Woolf, MusicWeb International, February 2016
"Some conductors play the Brahms Fourth for broad lyricism; Rowicki's taut, austere approach, by contrast, treats each movement as an abstract structure requiring clear exposition. This generates considerable power, especially in the outer movements […] The orchestra responds marvelously…"

"Geoffrey Terry's remastering of his own original recording […] offers nicely focused bass and vividly realistic reproduction of soloists and instrumental choirs…"

"Recommended as a document of the orchestra and conductor, and specifically for the Szymanowski."
—Stephen Vasta, MusicWeb International, July 2016
"The audience is well behaved. This presumably marks their completely understandable absorption in and appreciation of the performance. This is showcase-fast music-making … You won't forget this."

"The booklet […] is well done with an introduction to each piece of music and unusual non-pro-forma profiles of Ekier, Rowicki and the orchestra. Especially interesting, and definitely worth having, is Mr Terry's detail-rich memoir of the orchestra's 1967 UK tour. It's not often you get this sort of flavoursome detail of time and place and it is well done."

"A Huddersfield concert with no prisoners taken, vintage 1967 […] a fascinating record of a live event, sparks still flying."
—Rob Barnett, MusicWeb International, August 2016
Customer review
"Each time I've listened I've been completely overwhelmed. I've always loved Brahms' symphonies, and am in the middle of one of my periodic phases of re-listening to many of the wonderful recordings which I've accumulated over the years. The Rowicki Fourth, though, is very special. It's so beautifully conducted and played – and your recording enables the listener to hear wonderful performances from individual players within the lovely blend of their joint efforts. Above all, the experience is inexpressibly moving – almost unbearably so, in fact. At the end, I find myself forced to sit quietly for a few minutes, attempting to come to terms with the tragic beauty of this truly great performance and recording of a work which I've loved for many years. I want to thank you, Geoffrey, for enabling me to have this treasurable – and, thankfully, repeatable – experience."
—Bill Abbie, Edinburgh, private correspondence, 22nd January 2016
Track listing
Time
Sergei

Prokofiev

: Symphony no 1 in D (Classical Symphony), op 25

12' 22"

1
I Allegro
3' 51"
2
II Larghetto
3' 11"
3
III Gavotta: Non troppo allegro
1' 31"
4
IV Finale: Molto vivace
3' 49"
Karol

Szymanowski

: Symphony no 4 (Symphony Concertante), op 60

22' 11"

5
I Moderato
9' 03"
6
II Andante molto sostenuto

*

7' 00"
7
III Allegro non troppo
6' 08"
Johannes

Brahms

:

Symphony no 4 in E minor, op 98

37' 13"

8
I Allegro non troppo
11' 16"
9
II Andante moderato
10' 47"
10
III Allegro giocoso
5' 34"
11
IV Allegro energico e passionato
9' 36"
Total time:
71' 46"
*Sample extract (control with the Sound Sample tab at the top of the page)
Witold Rowicki in memoriam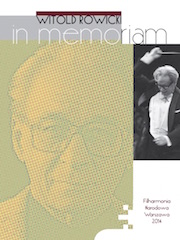 Witold Rowicki
in memoriam
(book cover)
Although this is an original Orchestral Concert CDs recording, just like all the others in the range, this is actually not the first time it has been issued. While exploring the possibility of its publication with the Warsaw Philharmonic, it emerged that the orchestra was interested in producing a special book to commemorate the centenary of Witold Rowicki in 2014, and wanted to include a couple of discs inside the hardback covers of this book (one DVD containing a documentary; one CD containing a live concert recording).
The orchestra was very impressed with the quality of the OCCDs Huddersfield recording, and – as a previously unissued recording – it made excellent sense to include it as part of the memorial issue. An appropriate arrangement was reached, and Orchestral Concert CDs agreed not to issue its own version of this disc until some time after the centenary was over. The orchestra provided us with a number of pressings of the CD for our own use, and hence this disc has now been added to the OCCDs range, albeit as a strictly limited edition. The contents of our version of the disc are absolutely identical to those of the disc included with the memorial book, but our booklet is in English and is presented in the usual OCCDs style to match our existing range.
The cover picture of this CD is a watercolour painting of Huddersfield Town Hall, entitled Going to the Messiah at Huddersfield Town Hall. It was commissioned by the Huddersfield Choral Society in 2012 and is used with their kind permission. The artist is Andrew Jenkin.
Further information about the Warsaw Philharmonic's commemorative book, Witold Rowicki in memoriam, can be found on the orchestra's website; copies may still be available for purchase. Indeed, the booklet itself is available for free download as a PDF File. Unfortunately, it is available only in Polish.
---