CD12/2011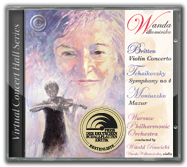 Warsaw Philharmonic Orchestra
Witold Rowicki
Wanda Wiłkomirska, violin
The Royal Festival Hall, London
Recording: 7th April 1967
| | |
| --- | --- |
| | Award-winning recording (see below) |
---
Track listing
Time
Benjamin

Britten

:

Violin Concerto, op 15

29' 43"

1
I Moderato con moto – Agitato – Tempo primo

*†

8' 25"
2
II Vivace – Animando – Largamente – Cadenza –
III Attacca – Passacaglia: Andante lento – Un poco meno mosso
21' 17"
Pyotr Ilyich

Tchaikovsky

:

Symphony no 4 in F minor, op 36

38' 10"

3
I Andante sostenuto – Moderato con anima
16' 19"
4
II Andantino in mòdo di canzona
8' 23"
5
III Scherzo: Pizzicato ostinato
5' 11"
6
IV Finale: Allegro con fuoco
8' 16"
Encore: Stanisław

Moniuszko

: Straszny dwór (The Haunted Manor)

5' 10"

7
Act IV Mazur
5' 10"
Total time:
73' 03"
*Sample extract (control with the Sound Sample tab at the top of the page)
†This track may also be heard on the opening News page and on the Sampler CD
WINNER, German Record Critics' Award
5th November 2012
Orchestral Concert CDs is thrilled to have won the prestigious German Record Critics' Award (Quarterly Critics' Choice for Q4 2012 in the Historical Recordings category) with CD12/2011.
Translated into English, the award's verdict about the recording reads:
"Wanda Wiłkomirska presents herself here as one of the great storytellers on the violin. She plays one of the most important concertos of the 20th Century, and the recording technique is sensational. An unrepeatable constellation."
—Wolfgang Wendel
With reference to the award, Wanda Wiłkomirska commented: "Naturally I am delighted about the prize, and very proud."
Orchestral Concert CDs is particularly pleased that the award acknowledges not only the sublime musical performance but also the exceptional quality of the sound recording.
The "sensational" recording technique referred to in the award verdict – known as CNSTR – is not unique to this disc; as our standard approach, it is used with all recordings in the OCCDs range.
---